Icons are an important aspect of a web application or even just a website – they add visual cues to different headings, buttons and sections of the site, making it easy to recognize what each element is and help users make quicker decisions. They also look great and add a professional polish to your app.
These days there are many great icon packs available for free. Here's my selection of the top 10 free icon packs.
This is a fantastic icon set that is very popular throughout many web apps and websites. There are over 700 icons in this pack, which cover pretty much anything you would need, from error signs, hard drives, alarms, calendars, disks, app icons, text editing symbols, RSS feeds, etc etc. – this pack really covers it all. Highly recommended. Download here.
A very nice icon set that's released for Linux usage, but is very well suited for web apps and websites as well. 1500 Icons in this pack in total (in various sizes). Download here.
This is a nice set for web applications or websites, featuring 20 glossy 3D icons. Download here.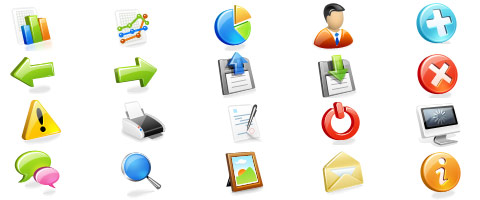 This is a fantastic set of small icons, ideal for use as little header icons or for buttons/tabs in web applications. 400 icons in total (200 in 10x10 pixels size and a further 200 in 16x16). This pack is similar to the Fugue and Silk sets, and is of very high quality. Download here.
25 clean and sharp icons. Nice folders, envelopes and calendar pages especially. Download here.
25 icons in scalable Illustrator format, meaning you can make them any size you need to and they won't lose quality. Not a very extensive pack but the quality is good. Download here.

A small icon set by iTweek on Deviantart. They look like little knobs and feature several colors depending on the action they symbolize. Download here.
Vista style icons that are sharp and come in a large 256x256 pixel size. 92 icons in total, covering things like networks, devices and documents. While aimed at the operating system, the pack has plenty of icons that are suited well as illustrations on websites. Download here.

Need some good RSS icons? Here you go. Plenty of variations here, from your standard RSS square, to RSS speech bubbles, RSS documents and folders. Download here.
The Fugue pack is from the same designer (Yusuke Kamiyamane) as the Diagona pack. These icons are really fantastic, I can't recommend them enough. 788 in total (16x16 pixel size), which covers pretty much every action and button your web app or website will need. Get them now. Download here.
I hope you find these resources useful. Do you have or know of a great free icon pack? Share it with us in the comments below.