Disclaimer: I try not to post promotional stuff on this blog, but I think this is something a few of you might really like. In the last couple of weeks I've been working on a new project called the Themes Boutique. It's a  WordPress theme store that will focus on offering highly customizable themes to bloggers and website owners. Feel free to skip this post if you're not interested, otherwise keep on reading – there's a freebie at the end of it, too ;)
So, what's all this then?
Not so long ago the choice of user friendly CMSs (content management systems) was fairly low. Even worse, the themes available for each CMS were relatively poor. Today though, free systems like WordPress have matured, and more and more free themes are appearing that look and feel just like any professional website. The bar for theme development is being raised to a new level.
This new level is customization. The ability to customize your blog's navigation, layout, colors, typography and more is starting to appear in newer themes. People who don't know much/any HTML, CSS or PHP (or just don't want to spend time on the design and would rather focus on writing) can begin to customize the look and feel of their blog without touching a line of code.
The Themes Boutique website
This is what I'd like to focus on with the Themes Boutique. I'd like to offer themes that are not just well designed, but themes that come with enough options to enable everyone to fully customize them to their liking without having to touch any code.
The Store
The Themes Boutique website is custom coded from scratch to offer very user focused features and to make the experience of buying and downloading latest versions of themes very easy. When you buy a theme, you register a user account. This allows you to log into the customer area of the site which has two key features: support forums and downloads.
I didn't want to use off the shelf forum software, so I've implemented my own simple solution. Most forums right now have too many features and end up looking like spreadsheets. I don't really care what number of posts a user has, or how many people are also browsing the forum. The whole purpose of most forums is to post questions and get responses, and that's exactly what the Themes Boutique has. I'll be adding a bit more functionality in the future, such as email notifications, but overall, I want to keep things really simple and focused.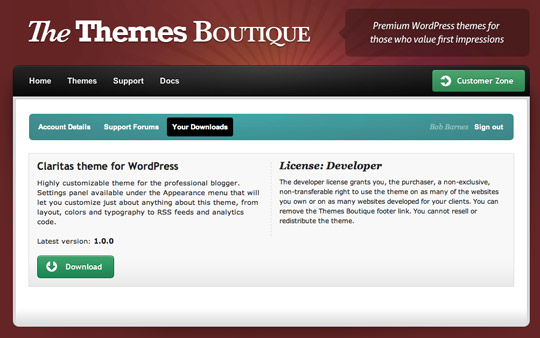 The Themes Boutique downloads page
The other area for customers is the downloads section. The Themes Boutique keeps track of all the themes you've bought (including what license), and so the downloads section will give you quick access to all of your files, as well as license information. This means you don't have to worry about losing your theme files. It means you can access your themes from any computer with Internet access should you want to install them on a new blog. It also means you get instant access to your theme updates as they're released.
Freebie
Ok, I did promise a freebie at the start of the post, so here we go. I'm launching The Themes Boutique with two themes. The first is a premium theme called Claritas that I'm selling for just $50 for use on as many sites as you like (there's a $20 off sale so it's $30 until Jul 31). Claritas is a highly customizable theme that will let you tweak everything from layout to typography and colors from its custom settings panel.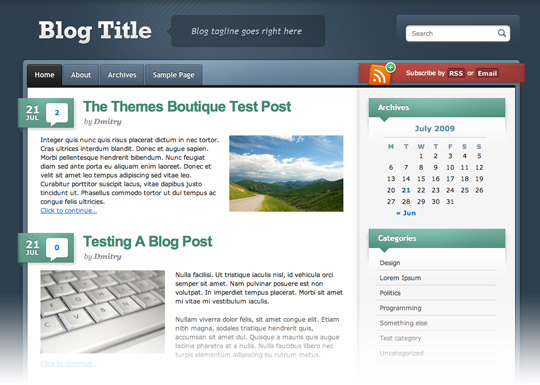 The free Celadon theme for WordPress
The second theme I'm releasing is called Celadon. Celadon is completely free and also comes with a custom control panel. There are 6 color themes to pick from. Celadon is a fair bit more rigid in terms of customization than Claritas and focuses on visuals and usability, but there are still a fair few options to pick from.
Go ahead and grab a free copy of Celadon here, and have a browse through the Themes Boutique while you're there.
I'm really excited to see how this project turns out. If you have any thoughts, comments or suggestions then I'd love to hear them – go ahead and leave a comment below.